Ready to cold smoke my bacon.
I am using the cold smoke to add flavor, not cook the meat. The meat is smoked at a temperature of 100 or so and below.... 65 degrees seems to work out great for me.
After cold smoking, the bacon will be sliced and fried or cooked before using.
Here are links to the beginning of my bacon making process......
http://cowgirlscountry.blogspot.com/2008/12/curing-bacon.html
http://cowgirlscountry.blogspot.com/2008/12/making-bacon-part-2.html
I use my little smokehouse.
Loading the bacon into the house....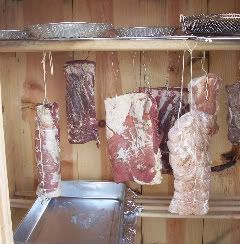 Before smoking, I let the bacon hang for a couple of hours to make sure it is dry.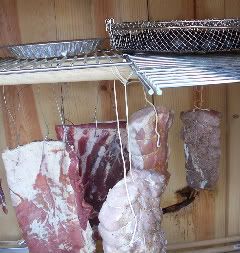 I use a mixture of hickory with a bit of apple wood. Bring the cold smoke up to a temperature of 65 degrees.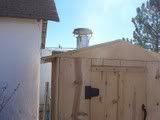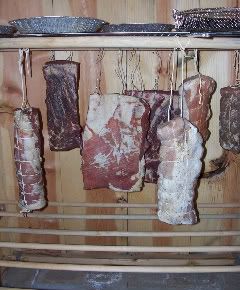 I cold smoke the bacon until it reaches the color I want. You can smoke as long as you like. I've smoked as short as 8 hours and as long as 18. I cold smoked this batch for 17 hours total.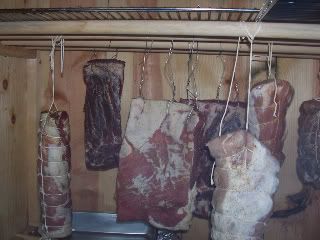 The finished bacon...ready to cook....
While the bacon was in for the long smoke, I cold smoked a few other items...
Some mozzarella cheese
whole black pepper corns
a bit of clover honey
some pecan halves
a variety of black olives
and a kosher salt/black pepper/onion and garlic powder mixture
These took on the cold smoke for 7 hours...